WE-TRANSFORM D4.1 is submitted for review!
WE-TRANSFORM project finally submitted our D4.1 ASSESSMENT OF THE IMPACT OF TRANSPORT AUTOMATION ON THE WORKFORCE for approval!
Dr. Nikolas Thomopoulos, University of Surrey – WP4 Leader, hosted a presentation on the Deliverable overview on the 7th of March. This Deliverable is a part of the WP4: Assessment of impacts of automation on the transport labour force.
The presentation started with an overview of the main WE-TRANSFORM terms such as #digitalisation and #automation.
This deliverable assesses the impact of transport automation focusing on the impacts identified within previous project outputs. Impacts have been assessed using a twofold approach based on the Analytic Hierarchy Process and semi-structured interview sessions. The input used for the analysis is from 68 stakeholders representing transport sector organisations across Europe and beyond, with over 200 000 employees in total if combined. These stakeholders are senior managers (e.g. CEO, CIO, Director) in their organisation, managing organisational areas such as Strategy, Innovation, Operations, and HR. Findings indicate that Training Skills & Needs and Business Transition are the two most important impact categories across countries and transport modes. A basic understanding of evolving technologies is crucial and organisations are trying to address this via reskilling schemes. This approach is a core practice currently regarding business transition, although a lot of stakeholders acknowledge that certain work practices cannot be fully automated, so human input will continue to be required. Relevant impact sub-categories are further highlighted to inform T4.3 and WP5, which will shape future scenarios and the Policy Agenda.
Below you can take a look at some of the stakeholder statements that we could produce during the focus group meetings and WE-TRANSFORM workshops. Such statements are core to Deliverable 4.1.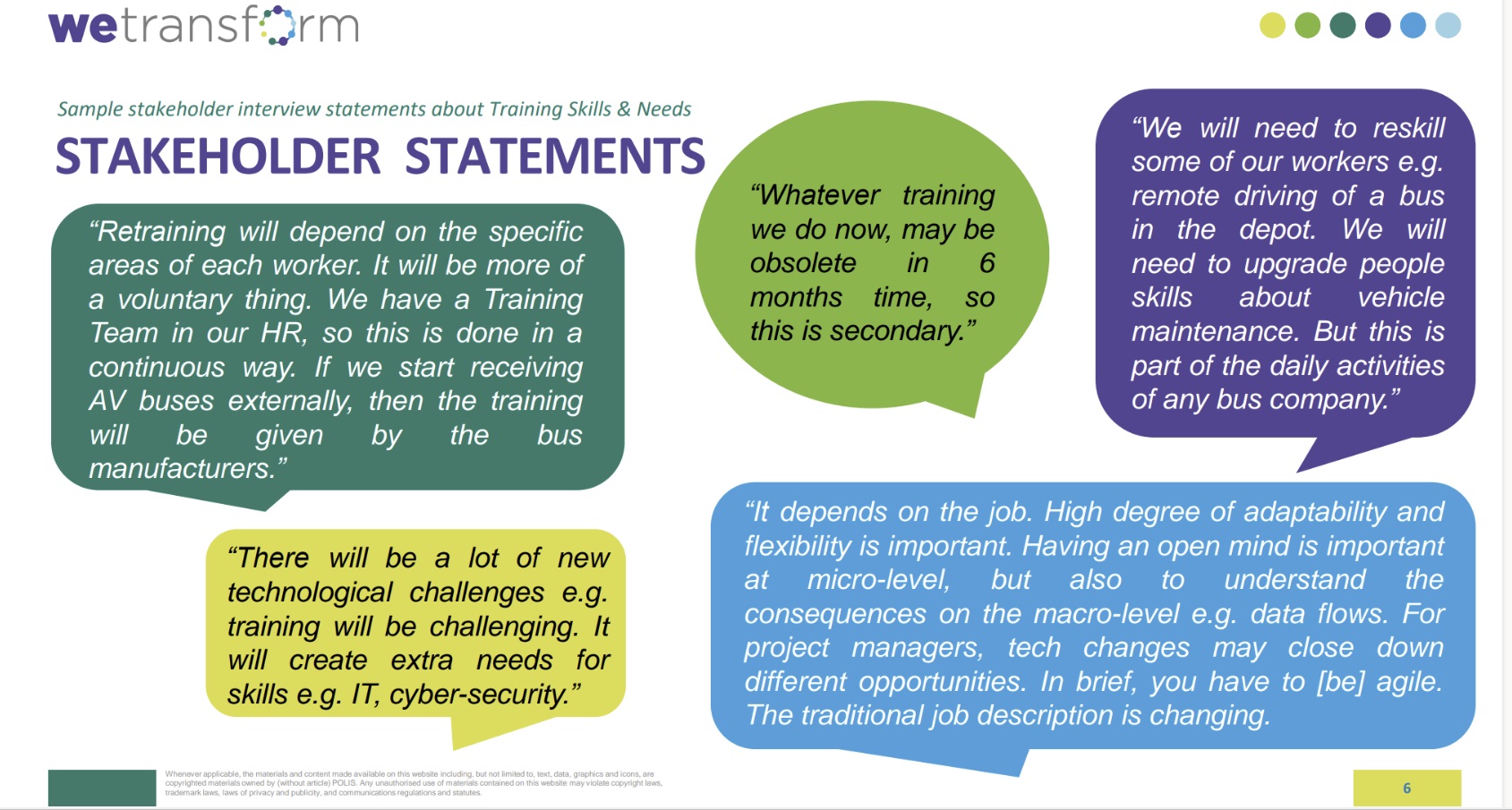 Stakeholder statements outline
Stay tuned to be the first to read our D4.1 ASSESSMENT OF THE IMPACT OF TRANSPORT AUTOMATION ON THE WORKFORCE when it will go live!
Special thanks to all the partners and contributors!